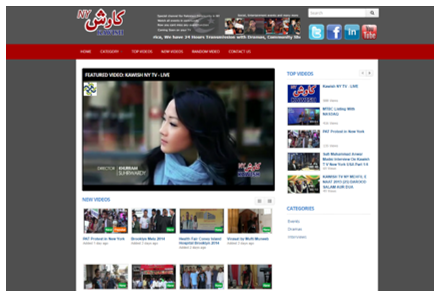 Our customers are satisfied with becoming our video hosting, streaming and advertising partner. They were glad to have made the switch from costly online video delivery system to our cost-effective and revenue-generating solutions. We have made case study of our existing clients to see how they have benefited from our video platform service. What we hope is for you to experience the same by partnering with us.
One of our customers is Kawish New York TV, who was on the losing end before joining the LOS premium partnership. They were previously having losses because of the expensive encoding and storage fees, but when they tried Live Online Services, they have never turned back. Since then, they have gained revenue each year from ad placements. Not only that, their video traffic has increased significantly, which also added to the hike of revenues.
Background
Kawish New York TV is an entertainment review site, which has expanded into entertainment news and blog platform. Per month, its audience and video views reached at least 50k-100k/day. Their site gives users a fresh look at what's new in the entertainment industry. It features the latest clips and trailers of movies and TV news, celebrity interviews, dramas, and event coverage. They aim to accommodate the interest of their audience on what's timely, new, and relevant.
The Challenge
Though they have a solid vision, the main challenge of Kawish New YorkTV was the high cost of hosting and video storage, as a result of increased views and following. At that time, they were having high monthly spending for video hosting, and the monetization scheme was insufficient. They were spending more and earning less. What they really require is a way to reduce their spending and at the same time get a hosting and streaming provider that can deliver effective results.
The Solution
Kawish New York TV took advantage of the Premium account and they received a 100% ad fill rate from advertisers from all over the globe. Hence, they were able to create a steady monetization of their video content, resulting to increased income and profit. In just within one year, they were able to turn the tide. From $36k worth of losses, it was converted to $125k worth of profit. In their testimony, they mentioned that LOS has a high amount of inventory and worked with them to integrate everything.